Page 1 of 1, showing 1 to 6 of 6 results
11 October 2013
A little mini-podcast to provide some deeper insight into recent release 1963: Fanfare for the Common Men. Spoiler-free!
Listen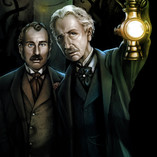 18 October 2013
Categories:
Doctor Who - Destiny of the Doctor
,
Doctor Who - Fourth Doctor Adventures
,
Sherlock Holmes
,
Doctor Who - The Lost Stories
,
Doctor Who - Eighth Doctor Adventures
,
Doctor Who - The Companion Chronicles
,
Doctor Who - Main Range
,
Doctor Who - 50th Anniversary
,
Survivors
,
Doctor Who - Dark Eyes
,
The Avengers
,
Podcast
Because you foolishly demanded it! It's an epic podcast with Nick Briggs and Paul Spragg tackling your queries! Can they hold it all together or will this bold experiment fall apart in a matter of moments? Listen and decide!
Listen
23 October 2013
The Light at the End is out now! To celebrate, we present a little podcast containing some teasers and behind the scenes notes...
Listen
30 October 2013
We're still very excited about the now very imminent Doctor Who fiftieth anniversary, and we've started celebrating already! To help get listeners into a festive mood, we thought we'd provide an opportunity to hear the first episode of last month's well-received main range release, 1963: Fanfare for the Common Men, absolutely free!
Listen
28 November 2013
A spoiler-free look behind the scenes at the making of recent main range release 1963: The Space Race!
Listen
5 December 2013
Last weekend, three bastions of Big Finish headed to the Chicago TARDIS convention. This is what happened when they took questions from the fans. Plus: a look ahead with Nick Briggs!
Listen
Page 1 of 1, showing 1 to 6 of 6 results